P

RESS
MEDIA AND EVENTS
---
WUNC 91.5FM, January 4, 2011
---
The Herald Sun, January 5, 2011
---
All receive village style support
News & Observer, January 5, 2011
---
Investment in brain power yields dividends
The Herald Sun, October 21, 2010
---
Th Herald Sun, September 9, 2010
---
World Breastfeeding Week: A step in the right direction
The Herald Sun, August 17, 2010
---
The Duke Endowment Newsletter , August 4, 2010
---
Women's health and family planning vital for healthy babies
Herald Sun, July 14, 2010
---
A newcomers guide to early childhood education
Herald Sun, June 28, 2010
---
New dad earns confidence through hands on baby classes
Herald Sun, June 17, 2010
---
Early Head Start Offers Support
Herald Sun , May 12, 2010
---
Caring enough to make a difference
Herald Sun , April 22, 2010
---
Mother's Day Cribs for Kids Campaign
Press Release, April 20, 2010
---
Nurses bring diverse experience to program
Herald Sun, February, 2010
---
12 Days of Giving - Cribs for Kids
Herald Sun, December 6, 2009
---
Cribs for Kids helps families, holds holiday crib drive
Herald Sun, November 19, 2009
---
Newborn home visiting program a positive experience for most
Herald Sun, October 15, 2009
---
East Durham revitalization begins at the kitchen table
Herald Sun, September 19, 2009
---
Group encourages African American moms to breastfeed
Herald Sun, August 27, 2009
---
Durham Connects begins at the hospital
Herald Sun, July 21, 2009
---
Classes tackle difficult subject - perinatal loss
Herald Sun, April 16, 2009
---
Durham Magazine , February 2009
---
Doctors see community benefit in newborn visits
Herald Sun, February 19, 2009
---
Quality Chilcdare Impacts Durham Community
Herald Sun, January 15, 2009
---
Program helps mothers with newborns
WTVD Eyewitness News 11 August 2008
---
Herald Sun, December 22, 2008
---
For every baby help from the start
Independent Weekly, January 7, 2009
---
Durham County Major Accomplishments Newsletter
Newsletter mailed with property tax noctice in Durham County
January, 2009
---
GrandParent Network celebrates season
The Carolina Times, December 20, 2008
---
New Parents Beat Holiday Stress
Herald Sun, December 18, 2008
---
Durham Connects continues newborn care
PULSE Durham Regional Hospital Newsletter
October/November 2008
---
Que Pasa Newspaper article about Durham Connects
En Espanol
October 23, 2008
---
Community health care benefits everyone

Herald Sun, October 15, 2008

---
Newborns need library cards too
Herald Sun , September 18, 2008

---
Children welcome "grandparents" into their world
News & Observer, September 13, 2008
---
Durham Connects at La Fiesta del Pueblo
August Sept. 5-7
---
New program brings nurses to newborns
The Chronicle, September 9, 2008

---
New Program Benefits Durham County Newborns
Carolina Parent, September, 2008
---
Durham County Public Library
August 8, 2008
---
Durham Connects is all about infants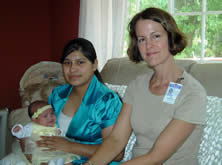 Herald Sun, August 14, 2008
---
En busca de los recien llegados
Que Pasa, August 14, 2008
---
Durham Connects with new moms and dads
Herald Sun front page, August 9, 2008
---
Program offers link to baby resources
Herald Sun, August 8, 2008

---
Nurse program helps Durham mothers get started
News & Observer, August 11, 2008
---
Grandparent Network luncheon highlights volunteers/mentors
The Carolina Times, July 26, 2008
---
New program provides free nurse visits...
Duke Primary Physicians newsletter, August 5, 2008
---
Herald Sun, July 17, 2008
---
Field Hearing Testimony
Durham Connects is part of the Durham community. Below are some of our recent community awareness activities. Please feel free to join us at our next event.
Durham Connects testified before the Robert Wood Johnson Foundation's Commission to Build a Healthier America, June 12 in Raleigh, NC. It was the first of three field hearings the commission is holding across America. The goal is to learn about local programs that are improving health for Americans in creative ways.

Read the testimony.

To learn more about the Commission to Build a Healthier America, visit www.commissiononhealth.org
---
Red de Apoyo de los Abuelos de Durham Photo
---
Herald Sun, June 19, 2008
---
Herald Sun, May 15, 2008